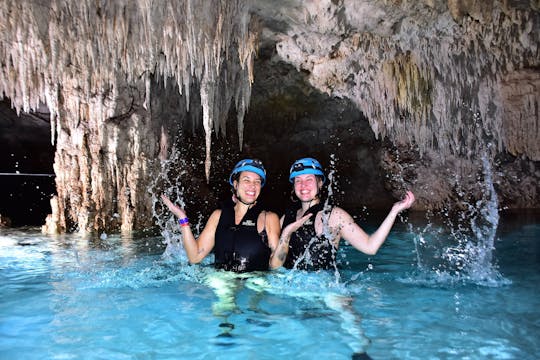 The Río Secreto – also known as the Secret River – stayed true to its name until 2007. Discovered only in the last decade, this incredible underground waterway is now one of Mexico's most pristine patches of nature. It's a very special place for Fernando, one of our expert guides. 'The jungle canopy is home to a hidden world of Maya culture – it's extraordinary.' Experience a tour that sees you bike and hike your way through this knockout natural beauty spot, immersing yourself in ancient Maya traditions along the way.After pick-up from your hotel, we'll journey deep into untouched jungle where exotic flora and fauna thrives. To help keep it that way, we only visit in small groups of up to 16 people, which minimizes our carbon footprint. Set off down ancient Maya trails that now make up the Río Secreto Nature Reserve and find out about Mexican conservation efforts to preserve this tropical enclave. After a wildlife-spotting walk, we'll hop on bikes and cycle along forest-fringed paths to see the sacred La Ciaba tree. With skywards reaching branches and huge roots snaking into the ground, legend has it these incredible trees are a link between the Mayan underworld, Earth and heaven.Next, meet a traditional Mayan healer who will perform a ritual with sahumerio – a typical incense made with local herbs. Then, wade through the pristine waters of the underground river, admiring stunning stalactites and stalagmites along the way. At the end, a well-earned buffet lunch with drinks awaits.
Duration
from 2 hours to 4 hours
Spend a day exploring the ancient Mayan Ruins of Coba and marvel at the stunning stalagmites and crystal-clear natural pools at two cenotes.
Complete your trip to the Yucatan peninsula cycling through the lush jungles of Tulum and swimming in the crystal-clear waters of 3 incredible cenotes.
Popular experiences in Cancun