There are hundreds of ways to fall in love with Lanzarote – but the two stars of this excursion would make any top 10 list. First up is the Sunday morning market in Teguise – a maze of single-storey whitewashed alleys that converge on the main square. Here, under the shadow of Guadalupe church is where rows of stalls sell local foods and handicrafts. You'll have a couple of hours to savour the atmosphere and maybe bag a souvenir before driving south through Lanzarote's volcano-strewn centre to Papagayo beach. This remote strand of golden sands is hemmed in by headlands – it's a wonderful spot in which to wind down for a few hours.
Duration
from 4 hours to 8 hours
More than 360 stalls cram into Teguise's pretty plaza and cobbled streets on market day. So, shoppers will be spoilt for choice with this half-day trip to the island's most popular Sunday market. Expect tables creaking with local foodstuffs, jewellery, paintings and handicrafts. What's more, it's all given a carnival atmosphere by Canarian dancers, hair braiders and panpipe bands.
Duration
from 4 hours to 8 hours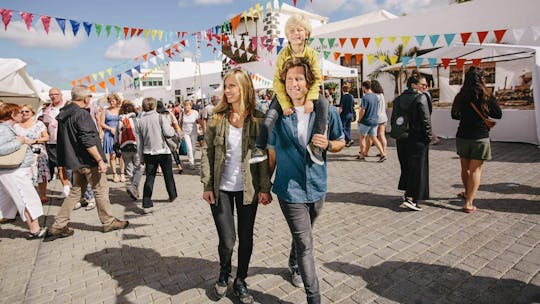 The Canary Islands are waiting for you so step out of your hotel and into adventure. On this excursion you'll explore not only the fantastic Teguise market, but also the Island of La Graciosa: its marine reserve volcanic peaks and champagne sand at your fingertips before your boat transfer back to Orzola.The Teguise Market is first. It's the largest and most popular market on the island; it´s easy to see why, it has hundreds of stalls overflowing with trinkets and delicious food. With pockets brimming and stomach sated we'll cross the Atlantic's turquoise waters in a short ferrying to La Graciosa.La Graciosa is one of a kind. There are no cars, nothing but sand and serenity, no distractions from the Canary Islands' last example of untouched paradise. Lunch is served on board, meaning you can get stuck into your free time on the island. So what are you waiting for? Explore, discover, stretch out on its beaches. Get to know it. And you never know, maybe you'll find yourself there too.
Duration
from 4 hours to 8 hours
Popular experiences in Lanzarote